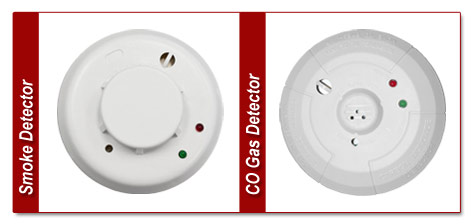 Life Alert offers its members an optional added benefit that enhances our home monitoring service: and advanced smoke detection and response system, monitored 24/7 by live dispatchers. Whether you are home or not, Life Alert can send help any time of day or night if fire or smoke is detected.
Life Alert's smoke detecting/monitoring units may look similar to ordinary smoke alarms, but they do much more to help save lives.
Whereas a regular smoke alarm just makes a noise in the presence of smoke, a Life Alert smoke detection unit reacts to the presence of smoke or fire by sending a signal to a team of despatchers, who monitor the detector 24/7. Life Alert dispatchers can then communicate with the subscriber and send appropriate help; in addition, they can send help even if there is no response from the subscriber.
If the batteries become low, Life Alert's monitoring center will get a signal and call the subscriber when it's time to replace them.
When you add up all these benefits, regular smoke alarms simply don't compare; they don't' provide Life Alert's level of protection and peace of mind.
Other advantages of Life Alert's fire protection: homeowners may receive a 10 to 20 percent discount on their homeowners insurance with a monitored fire system (depending on insurer), and installation is free.